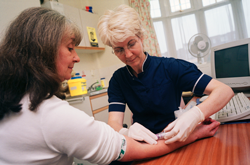 All test results are reviewed by the doctors. Usually these results come through from the laboratory electronically to the doctors. We usually only contact patients if the result is abnormal.
Reception staff can only confirm if a result has come through or not and without the consent of the Doctor, they are unable to give you the result as they are not clinically trained.
Normal results: If a test result is normal and requires no further action, it will be 'filed' in the patients notes. And we don't inform patients, as we advise them at the time of the test that we won't call them if the test result is normal. However, Admin staff will be able to see the 'normal' result filed within the patient's record should they ring up and enquire. At the time of the investigation procedure we also advise our patients, should they have any concerns regarding the results, they should not hesitate to call us back.
Abnormal Results: All abnormal results will be informed to the patients by the Surgery, if any action needs to be taken as below.
To make an appointment with the Doctor
To make an appointment with the Nurse/ HCA or Advanced Nurse Practitioner
Re-refer to new test or different test or repeat the test etc