Some of our other services include: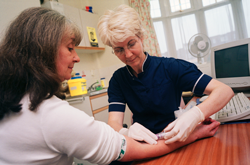 Children's vaccinations
Smear tests
Ear Syringing
Blood Pressures Monitoring
Blood tests and Anticoagulation tests
ECGs
Diet advice (Cholesterol)
Diabetic reviews
COPD reviews / Asthma checks
Warfarin Monitoring
Dressings
Contraception advice and checks
NHS Health checks
Antenatal Clinic
Health Care Assistant
Many routine procedures will be done by our health care assistants. These include blood and urine testing, ECG, and many other tasks including Spirometry (lung function test).
Long term conditions
The management of long term conditions such as Diabetes, Asthma or COPD is quite different than that acute illness. It involves more time for your questions so you learn about the condition and how to manage it in part by yourself. Regular reviews and advice on prevention and early treatment if things change. This is done by specialist nurse, and we recommend that patients with these conditions see her at least once a year. At other times you will also be reviewed by one of the doctors. Please always bring your inhalers or your insulin device and blood glucose results with you.
Antenatal clinic (Midwife)
If you find you are pregnant, you can make an appointment to see the midwife in her clinic at Brandon Surgery which is every other Thursday morning, the midwife visits them at their home as and when required. If you prefer you can see a GP first, but it will be the midwife who will carry out the routine antenatal checks throughout your pregnancy and give you the advice and support you need.
Child health and immunisations (Health Visitor)
All new babies are invited to our Health Visitor for regular check-ups from when they are eight weeks old. The immunisation clinics are also held in the surgery every two weeks on Wednesday mornings every month it is second and fourth Wednesday by Health Visitor. Health visitors will carry out routine checks give advice and answer your questions. Immunisations can be either given by the Health visitor or by the practice nurse.
Adolescents
Booster jabs are required 14 years onwards. You can also see our practice nurse for a general health check and other health matters and advice. Chlamydia screening (age 15- 24) is a simple and fully confidential urine test, just pick up a kit from the surgery and drops it back at surgery.
Minor surgery
Many minor skin operations can be done under local anaesthetic in our surgery by Dr R Kapur. Please discuss this with the doctor who will then arrange for you to be given an appointment.
Stopping Smoking
Advice can be given on stop smoking and further number of NHS STOP SMOKING HELPLINE (0116 295414, 08450452828) is provided to patient for further guidance.
Mental Health
The local psychiatrist offers to review patients at the Surgery by appointment. Our Counsellor offers appointments as and when required by the local psychiatrist.
Contraception
Our nurse and the doctors are trained to give confidential family planning advice and prescribe the full range of contraception, including emergency contraception.