New Patient Registration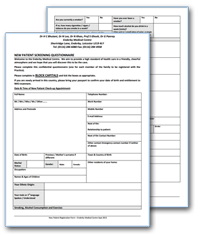 Patients will be accepted onto the practice list if they live within the boundary area as agreed with the local health authority.
To register you will need to fill in a New Patient Registration Form which can be downloaded (see the links below) and completed or obtained from the reception desk. You will also need to bring two forms of ID when bringing in your completed forms, such as your photo driving licence or passport along with a utility bill or bank statement showing your address details
Adult Registration Form –  New Patient Registration Form
Child Registration Form – Under 16 Registration Form
If you need any help completing the forms or need copies of the forms come into the surgery or call us.
Guide to GP Services
The Royal College of General Practitioners has produced a useful guide for patients about the services on offer at GP Surgeries and how to access them. You can download the guide below.
A Patient Guide to GP Services